Season tickets available starting September 5. Prices are TBAn or after the dates indicated below for each production. Click to view our season brochure.
Ticket prices for individual productions are $20 for adults, $15 for senior citizens, and $10 for students. Tickets are available 2 weeks before each production opens as noted below.
2023-2024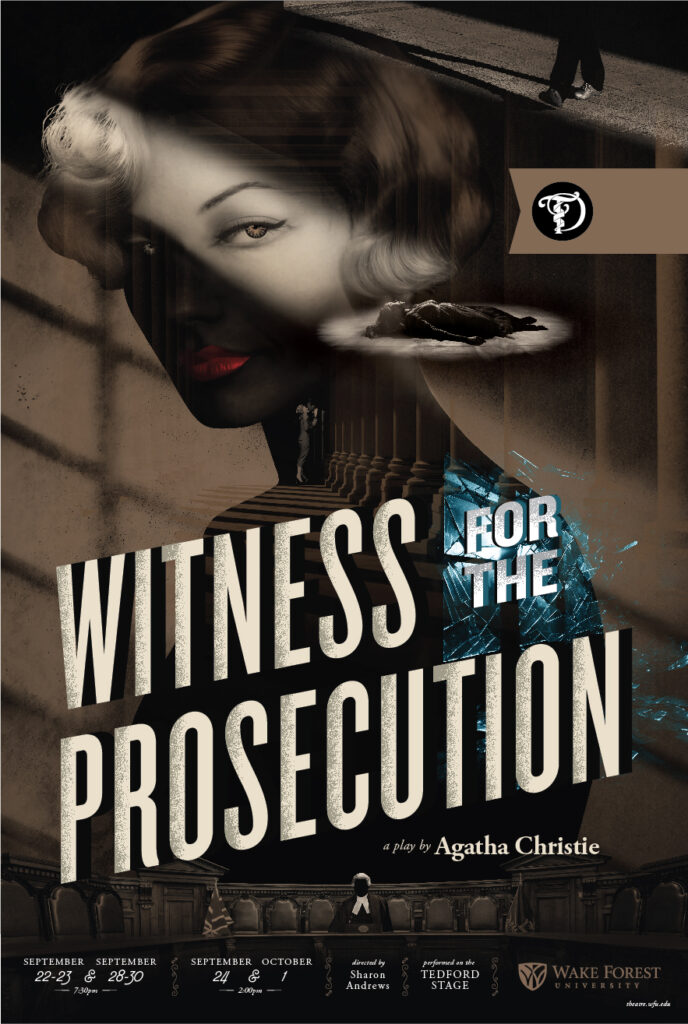 Witness for the Prosecution
by Agatha Christie
directed by Sharon Andrews
September 22-23 & 28-30 at 7:30 pm
September 24 & October 1 at 2:00 pm
Tedford Stage, Scales Fine Arts Center
The remarkable Agatha Christie is perhaps the world's most famous mystery writer. Her works are reportedly outsold only by Shakespeare and the Bible.
Leonard Vole, a young man admittedly strapped for money, is accused of murdering a wealthy older woman. The high-profile trial has London buzzing and many are curious about Leonard's enigmatic German wife that he rescued and brought to London after the war. This thrilling courtroom drama with its twists and shocks has long kept theatre goers on the edge of their seats dying to know, "guilty or not guilty".
Turning 15 on the Road to Freedom
Based upon the book by Lynda Blackmon Lowery
As told to Elspeth Leacock and Susan Buckley
Developed by Ally Sheedy
Adapted for the Stage by Fracaswell Hyman
Directed by Jackie Alexander
October 27-28 & November 2-4 at 7:30 pm
October 29 & November 5 at 2:00 pm
Tedford Stage, Scales Fine Arts Center
"My story is about being able to help change things no matter what your age." — Lynda Blackmon Lowery
Alongside Martin Luther King Jr. and her neighbors and friends, teenage Lynda Blackmon Lowery walked from Selma to Montgomery, Alabama during the Voting Rights March of 1965 on her 15th birthday. Jailed nine times before the March and badly beaten on Bloody Sunday, Lowery's powerful story is filled with sorrow and inspiration. Based on Lowery's memoir, traditional and original Gospel and Freedom songs frame the journey of a brave young American heroine.
A joint production of the Wake Forest University Department of Theatre & Dance and the Loire Valley Theatre Festival. This project is supported in part by funding from the National Endowment for the Arts.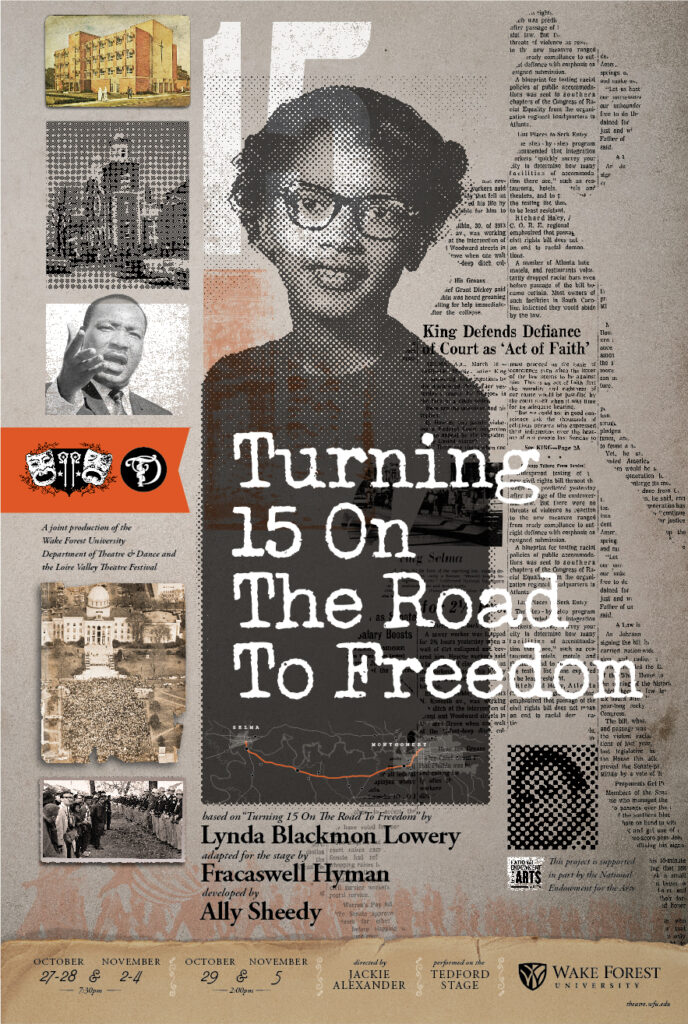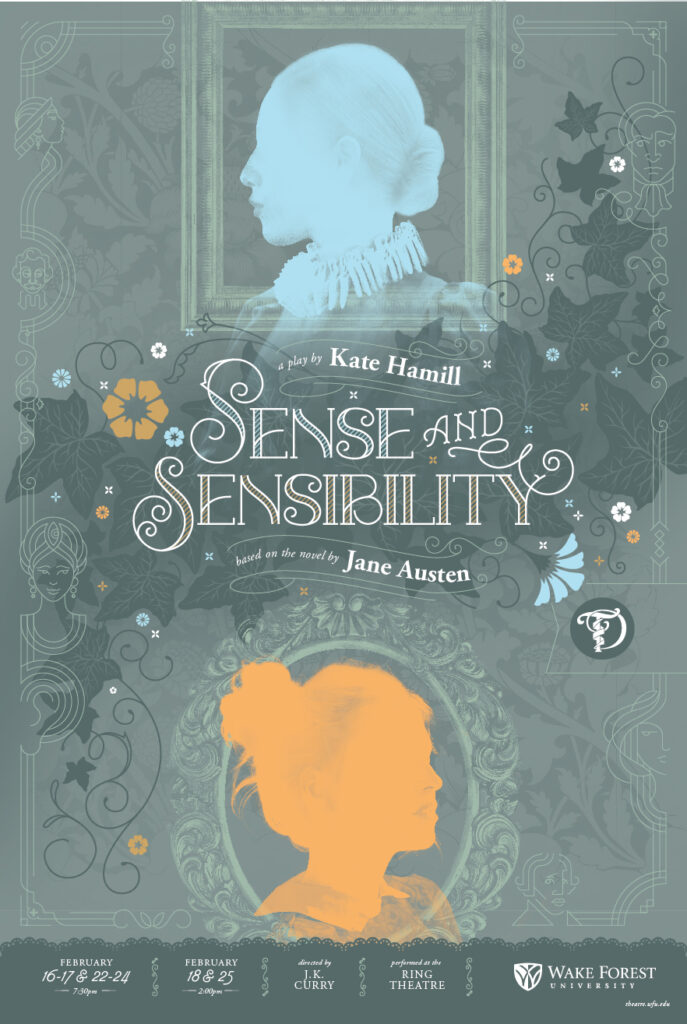 Sense and Sensiblity
by Kate Hamill
based on the novel by Jane Austen
directed by J.K. Curry
February 16-17 & 22-24 at 7:30 pm
February 18 & 25 at 2:00 pm
Ring Theatre, Scales Fine Arts Center
Sense and Sensibility is a fun and lively adaptation of the classic novel. The Dashwood sisters—sensible, restrained Elinor and emotional, romantic Marianne—both engage in the high stakes game (more or less obligatory for women of their time and social class) of securing a suitable husband. Adding to the challenge for the sisters are the embodiment of societal pressure, gossips that watch and judge their every move.
Audience Notice: No late admission for these performances.
---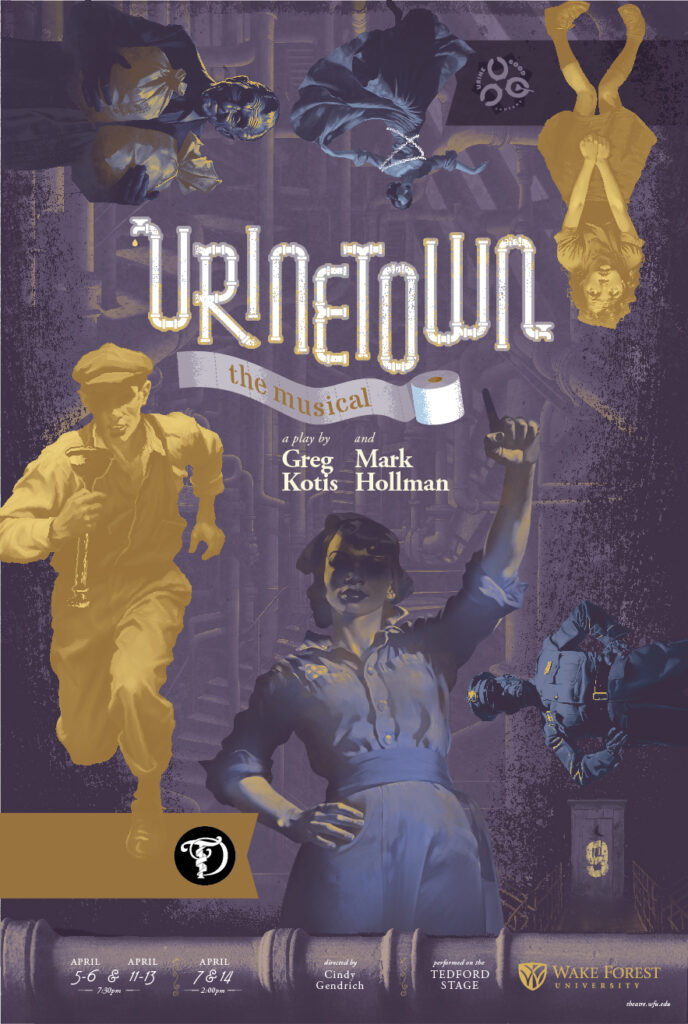 Urinetown the Musical
by Greg Kotis and Mark Hollman
directed by Cindy Gendrich
April 5-6 & 11-13 at 7:30 pm
April 7 & 14 at 2:00 pm
Tedford Stage, Scales Fine Arts Center
In a Gotham-like city, a terrible water shortage and 20-year drought have led to a ban on private toilets and the domination of malevolent Urine Good Company. The poor revolt, led by brave young Bobby Strong, fighting tooth and nail for the freedom to pee "wherever you like, whenever you like, for as long as you like."
Urinetown is a wickedly funny, fast-paced, surprisingly intelligent musical satire, and the winner of multiple Drama Desk, Lucille Lortel, Outer Critics' Circle, and Tony Awards.