Season tickets available starting August 1. Prices are $40 adults, $32 for senior citizens and WFU faculty/staff, and $20 students.
Ticket prices for individual productions are $15 adults, $12 senior citizens, and $7 students. Tickets are available 2 weeks before each production opens as noted below.
2022-23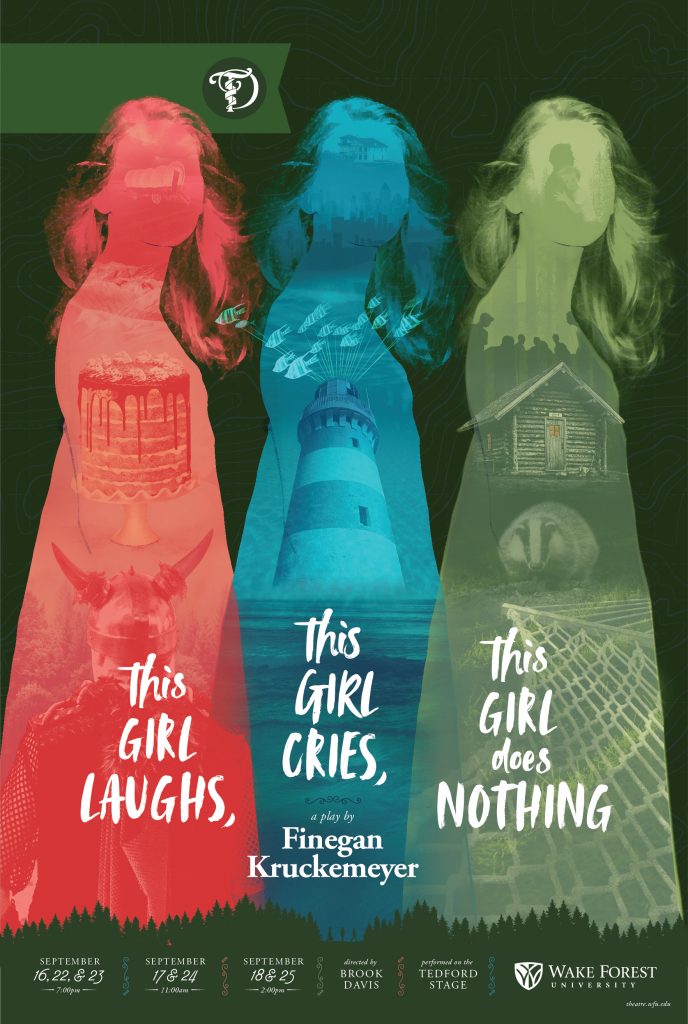 This Girl Laughs, This Girl Cries, This Girl Does Nothing
by Finegan Kruckemeyer directed by Brook Davis
September 16, 22, & 23 at 7:00 pm September 17 & 24 at 11:00 am September 18 & 25 at 2:00 pm
Tedford Stage, Scales Fine Arts Center
Join us for the charming story of three sisters who embark on fantastical journeys as they grow up and follow their dreams; there are sword fights, adventures at sea, and one very angry badger. This uplifting fairy tale is appropriate for all ages.
Julius Caesar
by William Shakespeare directed by Mark Cohen
Oct. 28-29 & Nov. 3-5 at 7:30 pm Oct. 30 & Nov. 6 at 2:00 pm
Tedford Stage, Scales Fine Arts Center
A breathless political thriller, Julius Caesar follows the unscrupulous machinations of Senate power-brokers who hold in their hands the fate of their Republic.  From backroom to battlefield, Shakespeare's first great tragedy rips back the curtain on how our politicians really hammer out their world-altering decisions, how they spin those decisions for a ravenous public, and how we all live with the consequences that those decisions bring down on us.   Julius Caesar is the riveting turning point in Shakespeare's career-long obsession with our relationship to evil played out against the glare of the political spotlight, and keyed to the music of high rhetoric and falling bombs.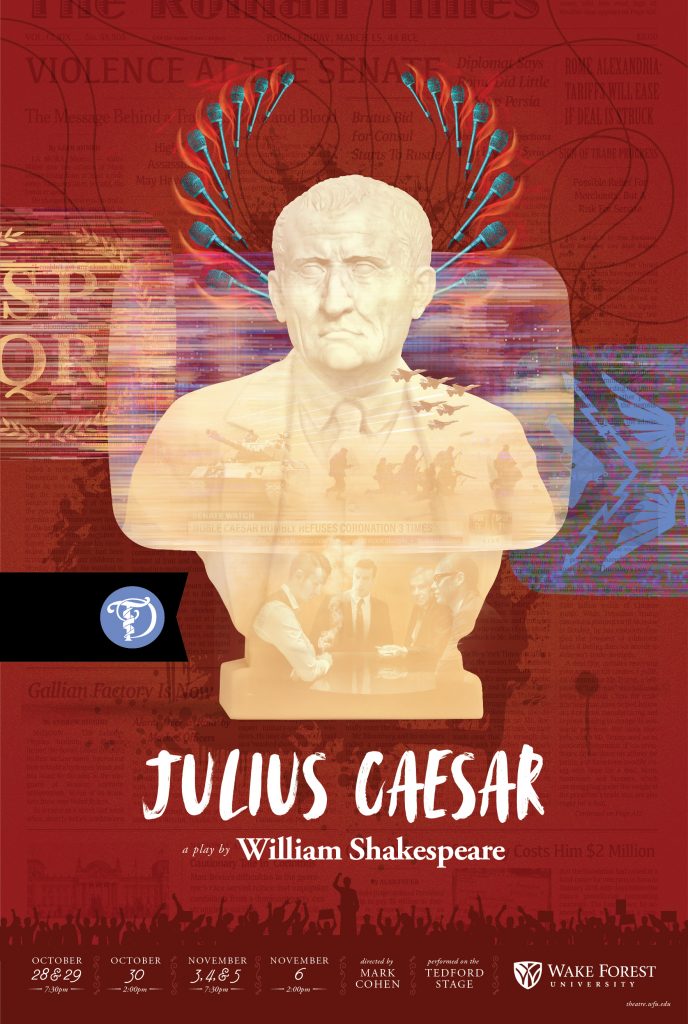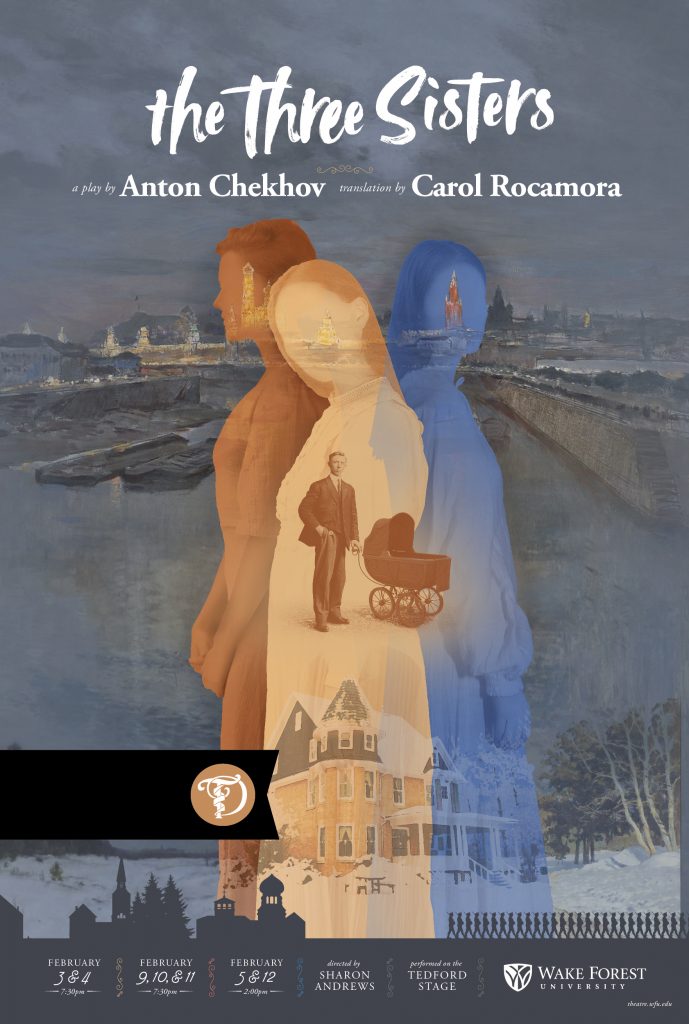 The Three Sisters
by Anton Chekhov translated by Carol Rocamora directed by Sharon Andrews
February 3-4 & 9-11 at 7:30 pm February 5 & 12 at 2:00 pm
Tedford Stage, Scales Fine Arts Center
Back Story
by various playwrights based on characters created by Joan Ackermann directed by Michael Kamtman
February 24-25 at 7:30 pm February 26 at 2:00 pm
Ring Theatre, Scales Fine Arts Center
Tickets available starting February 14.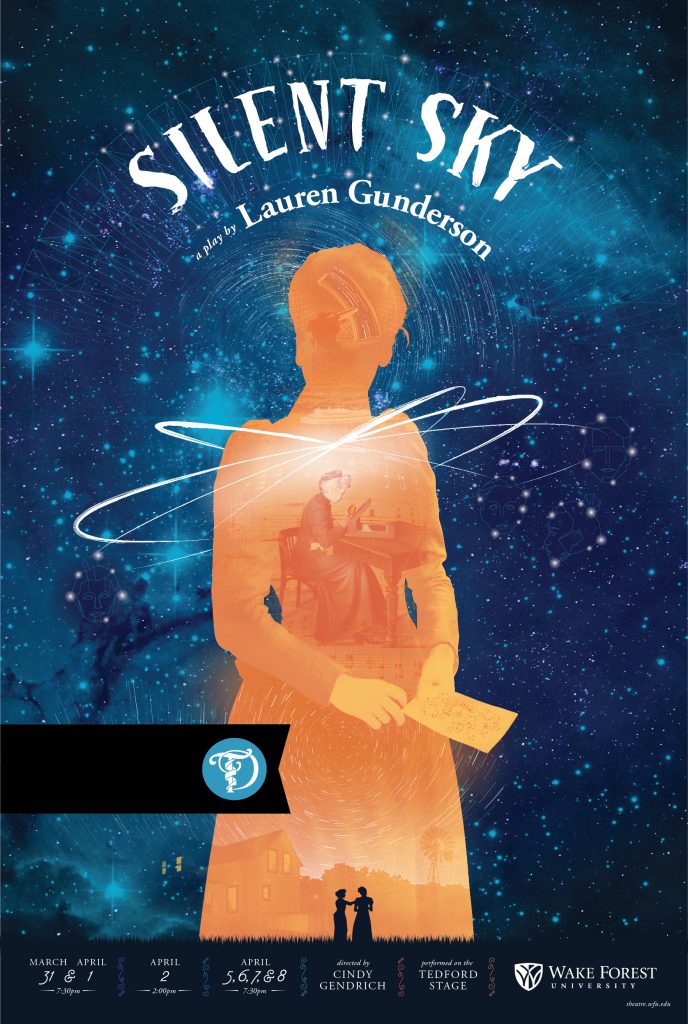 Silent Sky
by Lauren Gunderson directed by Cindy Gendrich
March 31-April 1 & 5-8 at 7:30 pm April 2 at 2:00 pm
Tedford Stage, Scales Fine Arts Center
Silent Sky is Lauren Gunderson's vivid astronomy origin story about Henrietta Leavitt, whose early work at Harvard taught us how to measure the universe. The Atlanta Journal Constitution called it a "luminously beautiful play," and "an intellectual epic told on an intimate scale." A story of family, friends, and choices, of persistence, love, and longing, this delightful night in the theatre also makes the recent photos from the Webb and Hubble telescopes seem even more amazing.