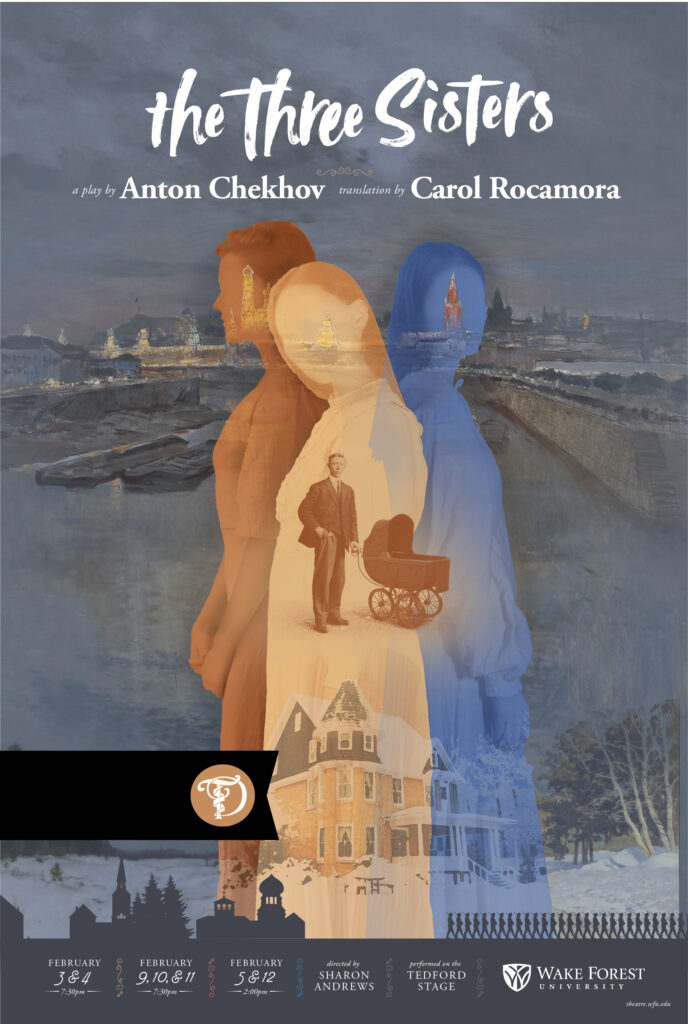 The Three Sisters
by Anton Chekhov
translated by Carol Rocamora
directed by Sharon Andrews
February 3-4 & 9-11 at 7:30 pm
February 5 & 12 at 2:00 pm
Tedford Stage, Scales Fine Arts Center
Who among us has never felt the longing for the unattainable, the desire for that which we will not have?
The Three Sisters, one of Anton Chekhov's most celebrated plays, illustrates his brilliance at portraying human beings as they really are. Intricately woven relationships, fiery passions, and dreams of a different future shape the lives of three women living on the cusp of the fall of Russian aristocracy.
Audience Warning: This production contains audio of a gunshot that occurs offstage.
Tickets: $15 adults, $12 senior citizens, and $7 students.
---
Theatre & Dance Department News
Auditions for The Three Sisters

Director Sharon Andrews will hold open auditions for Anton Chekhov's The Three Sisters on November 29 at 3:00-6:00 pm and November 30 at 6:00-9:00 pm […]

This Girl Laughs, This Girl Cries, This Girl Does Nothing Study Guide

As theater artists and educators, we love storytelling. This Girl Laughs, This Girl Cries, This Girl Does Nothing, like most theatrical productions, is in itself […]

aWAKEn Announces Designer for Silent Sky

31 August 2022 At World Stage Design 2022, hosted at the University of Calgary in August, Associate Professor for the Department of Theatre & Dance, […]
Newsletter
Contact Leslie Spencer to be added to the subscriber list for the Theatre & Dance Department newsletter.