Scripts for all theatre productions are available in TAD Student on Google Drive. For details, please contact the production director. All ethnicities and identities are encouraged to audition and volunteer for roles and assignments throughout the season. If you are interested in being part of the crew for any of the productions, please email Corey Gilliam (gilliamc@wfu.edu). For all the latest on Theatre & Dance events including audition details, please check our website college.wfu.edu/theatre or follow us on Facebook (Wake Forest University Theatre & Dance) and Twitter (@WFUtheatre) for updates. To be added to the TadTalks email group and receive information about theatre or dance-related events, send your name and email address to Lu Anne Simpson simpsolm@wfu.edu.
---
---
Witness for the Prosecution Auditions
By Agatha Christie
Directed by Sharon Andrews
Performances: Sept. 22-24 & Sept. 28-Oct.1
Monday, August 28 from 4:30-6:00 pm
Tedford Stage, Scales Fine Arts Center
There will be two rounds of auditions. The primary characters will likely be cast from this first audition, but there will still be speaking roles to be cast in the second round of auditions early in the Fall 2023 semester.
The play has a large cast. There is room for cross gender casting and all ethnicities are encouraged to audition. The entire cast will be involved in dialect work, which will be led by Leah Roy.
Strong word of advice…READ THE PLAY BEFORE COMING TO AUDITIONS.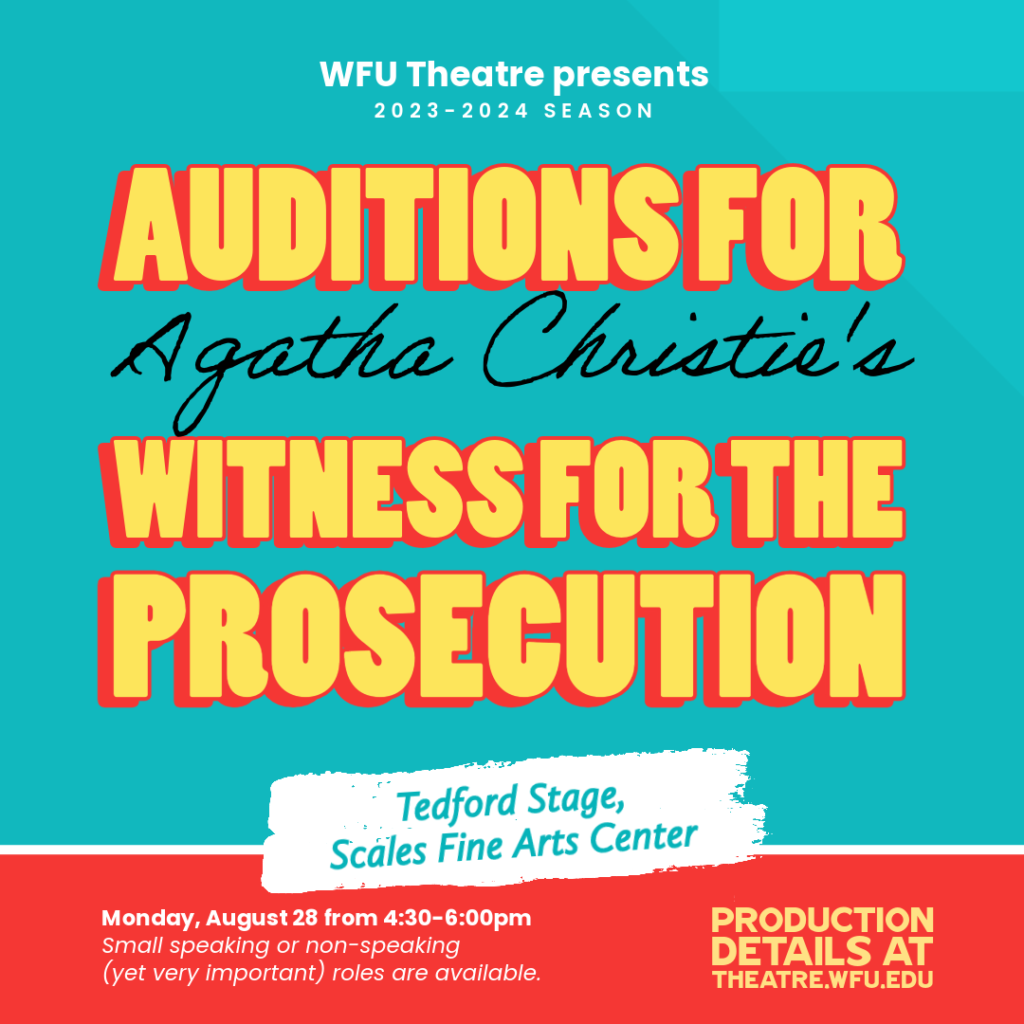 ---
Dance Company Auditions
Lyrical/Jazz

Tuesday, Sept. 5th 7-9pm in D101 Choreographers: Nina Lucas & Tina Yarborough-Liggins
Rehearsals: Lucas – Sundays 3-5 (D101) Yarborough Liggins– Wednesdays 7-9 (D101/204)
Modern/Contemporary
Wednesday, Sept. 6th 7-9pm in D101 Choreographers: Christina Soriano & Emily Nicolaou
Rehearsals: Soriano- Tuesdays 6-8 (204) Nicolaou- Mondays 7:15-9:15 (D101)
Classical Ballet & Contemporary Ballet
Thursday, Sept. 7th 7- 9pm in D101 Choreographers: Brantly Shapiro, Chris Martin and Sam Shapiro
Rehearsals: B. Shapiro/Martin – Wednesdays 7-9pm (D101/204) S. Shapiro – Thursdays 7-9pm (D101)
Please note the following:
To be eligible to perform in the concert, company members must be enrolled in a technique class during that semester.
Company members must commit to the mandatory attendance requirements for all regular and tech rehearsals.
Departmental Policy- Students must maintain a 2.0 overall GPA to participate in the company.
Optional- Enroll in DCE 128A Performance for 1-hour credit (contact Chris Martin martincr@wfu.edu for POI).
Concert Dates- Nov. 17-19, 7:30pm & Sun, Nov. 20 at 2:00pm.
Important mandatory participation DATES to remember:
Company Meeting– Mon, Sept. 18th/ 3:30-4:30pm in D101
Mid-Semester Showing– Mon, Oct. 23rd/ 3:30-5pm in D101
Designer Run– Mon, Nov. 7th on stage at 5pm
Tech, Lighting and Dress Rehearsals- Sun, Nov. 12th -Wed, Nov. 15th
Turning 15 on the Road to Freedom Auditions
Based upon the book by Lynda Blackmon Lowery  As told to Elspeth Leacock and Susan Buckley  Developed by Ally Sheedy  Adapted for the Stage by Fracaswell Hyman  Directed by guest artist Jackie Alexander of the NC Black Repertory Theatre
Performances: October 27-29 & November 2-5   Tedford Stage, Scales Fine Arts Center
A new musical based on the 1965 Selma Voting Rights March.
Cast auditions (no experience needed): September 8 & 9 at 6-8 pm in the Ring Theatre Callbacks on September 10 at 6-8 pm on the Tedford Stage
Sign up for auditions HERE. Contact Brook Davis (davisb@wfu.edu) with any questions. There will also be opportunities to join the choir.