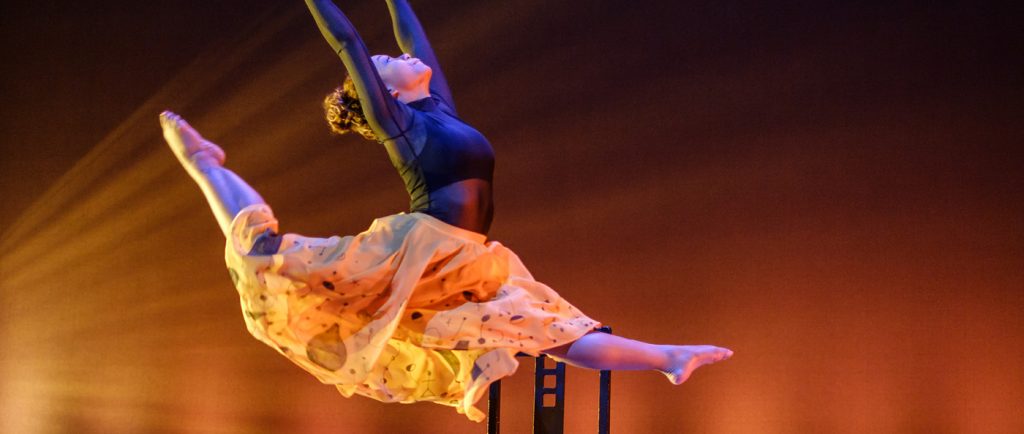 "When I'm asked why I chose to be a part of the WFU dance program, my mind automatically transformed it into "Why did you come to Wake?" I chose this university largely due to the dance program, which captured me when I visited with its passionate and talented participants. I could not see myself dancing anywhere else."
-Jasmyn Eichelsdorfer ('15)
The Dance Program at Wake Forest offers a wide range of dance classes—from beginning classical ballet, modern, jazz, and social dance to advanced technique classes. Students may minor in dance and more experienced dancers are invited to audition for the Wake Forest Dance Company. The talent and commitment of our dancers as well as the rich and varied background of our faculty members have earned the program a reputation for quality. Guest artists, choreographers and professional performing companies also have enriched the dance experience at Wake Forest. Beginners and students not interested in performing are invited to be part of the program by registering for one of the dance courses offered.
The University offers a Dance Minor in the Department of Theatre & Dance
Students have the option of declaring a dance minor once they have officially declared their major in the College, this typically takes place in the spring of the sophomore year. Having a minor in dance is not a requirement to participate in the Dance Company or upper level dance courses.

See the Dance Minor (DCE) page for information on courses for the Dance Minor.

Performance
Opportunities for performance are offered through the Wake Forest University Dance Company. The company is under the artistic direction of Nina Maria Lucas for the Fall Faculty/Guest Artist Concert and the artistic direction of Christina Tsoules Soriano for the Spring Student Choreography Concert. The company performs works by nationally renowned choreographers, Wake Forest Faculty members and selected student works, and their repertoire includes Classical Ballet, Modern Dance and Jazz works. The Company delivers performances characterized by high energy, grace, virtuosity, emotion and artistry to a packed house of students, faculty, administrators and dance lovers from the community.
The Fall Faculty/Guest Artist Concert gives students an opportunity to work with choreographers with a variety of styles and backgrounds. Guest artists are brought in from around the country to choreograph pieces for the dance company. The choreographers audition and rehearse the dancers throughout the semester. Having guest artists come to Wake Forest, gives students the chance to work with renowned choreographers with different styles of dance that the department may not offer. Faculty members also create their own original works for this concert, giving students the opportunity to work closely with Wake Forest's faculty outside of regular technique classes.
The Spring Student Choreography Concert allows the students to experiment with their own choreography and creativity. The performance tends to be filled with a wide variety of styles from classical ballet and modern to hip hop and funk. The student works are closely monitored by the faculty, who are available for support and guidance throughout the process. Students are responsible for casting their piece, conducting rehearsals and working with the costume and lighting designers. The concert enables students to develop and understand the creative process of choreographing a work. Past student choreographers have found this concert to be extremely rewarding especially in seeing how their ideas evolved throughout the semester concluding with the performance.

Divisional Courses – Division III
All students must complete courses in each of the five divisions of the undergraduate curriculum (unless exempted through procedures established by the departments concerned or by participation in the Open Curriculum). Together with the basic requirements these courses form the core of Wake Forest's undergraduate liberal arts education. The Dance program offers two courses that fulfill divisional requirements:
DCE 202 History of Dance
DCE 203 20th Century Modern Dance History

Dance Course Descriptions
Complete descriptions of dance course offerings may be found at our Dance Course page.

Introductory Dance Courses

The Dance Program also offers introductory level courses that are available as general electives. Most of these courses fulfill some of the dance minor requirements. The classes teach the fundamentals of dance technique and are traditionally focused towards those students with limited dance experience.
DCE 101 Beginning Tap Dance (does not fulfill minor requirement)
DCE 120 Beginning Modern Dance
DCE 124 Social Dance (does not fulfill minor requirement)
DCE 126 Beginning Jazz Dance
DCE 127 Beginning Classical Ballet

Presidential Scholarship
The Presidential Scholarship for Distinguished Achievement recognizes up to 20 first-year students who demonstrate a solid academic background and extraordinary achievement in dance, music, art, theatre, or debate. These $16,000 renewable scholarships are awarded on the basis of application and appropriate evidence of distinction.Though Presidential Scholars need not pursue a major in the area of their talent, they are expected to participate actively in that activity on campus. Interested students must be prepared to present evidence of outstanding talent and are asked by the Presidential Scholarship Committee for documentation of that talent (such as portfolios, debate records, taped performances, published writings, etc.) and recommendations. The program, begun in 1987, further diversifies the interests and abilities of a campus and student body already rich in both.
A separate scholarship application is required and due by December 1. Contact the Office of Admissions for further application information.
Facilities
The Wake Forest Dance Program utilizes two studios located in Scales Fine Arts Center. Both studios are equipped with mirrors, sprung floors, pianos, sound systems, and video equipment. In 2010, the Dance Program was given a second, more spacious studio. Both studios are used for classes and rehearsals. The Wake Forest Dance Company performs twice yearly in the Mainstage Theatre.
Most dance class at Wake Forest are accompanied by one of our talented musicians.
Student Run Dance Organizations on Campus
Students with varied dance interests may organize their own dance club. Examples of recent clubs are Ballroom Dancing, Salsa, Tap, and Hip Hop.