Dr. Brook Davis receives the Building the Dream Award
Posted on: January 25, 2019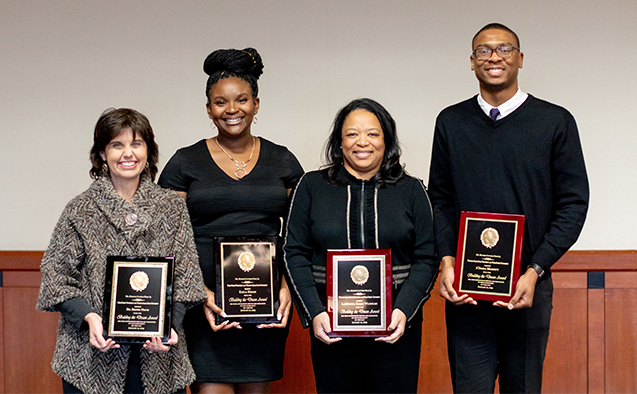 Brook Davis, associate professor of theatre and dance and student Kayla Heilig ('19) have been named Wake Forest University's 2019 Martin Luther King Jr. "Building the Dream" award winners.
The awards are traditionally presented to a professor or administrator and a student from both Wake Forest and Winston-Salem State University (WSSU) who exemplify King's qualities and promote diversity within the community.
This marks the 19th year that Wake Forest and WSSU have celebrated MLK's legacy with events during the holiday weekend. The celebration is the longest running partnership between the two universities.
Associate professor of performance Brook Davis was recognized for her volunteerism and mentorship in local schools. Since 2006, Davis has been the director of Shakespeare Day, a program that mentors and provides performance opportunities for students in local high schools. She serves as a mentor at Paisley Middle School and as an adviser for Suessification of Romeo and Juliet, where she works with student-teachers on coaching, directing and producing strategies. Most recently, Davis co-produced, "I Was There: A Staged Reading of Veterans' Stories,'" which focuses on the healing power of the arts in the veterans' community.
Senior sociology major Kayla Heilig has served in several leadership roles during her time at Wake Forest. She is a resident advisor, a member of Delta Theta sorority, a member of the Student Activities Fund committee and a supervisor for Deacon Student Patrol. She also served on the executive board of the BRANCHES social justice retreat for two years and has volunteered with the Pro Humanitate Institute planning and coordinating activities for various programs.
WSSU awarded the "Building the Dream" award to LaMonica Sloan Wilhelmi, director of Career Development Services and A'Daria Moffett, junior in mass communications.
ABOUT THE AWARD AND THE MLK DAY CELEBRATION
Faculty, staff and students at Wake Forest and WSSU submit "Building the Dream" award nominations for their respective universities and a committee of representatives from each school selects winners. The recipients were recognized at a banquet celebrating King held at WSSU on Jan. 21.
Photos by Lauren Olinger