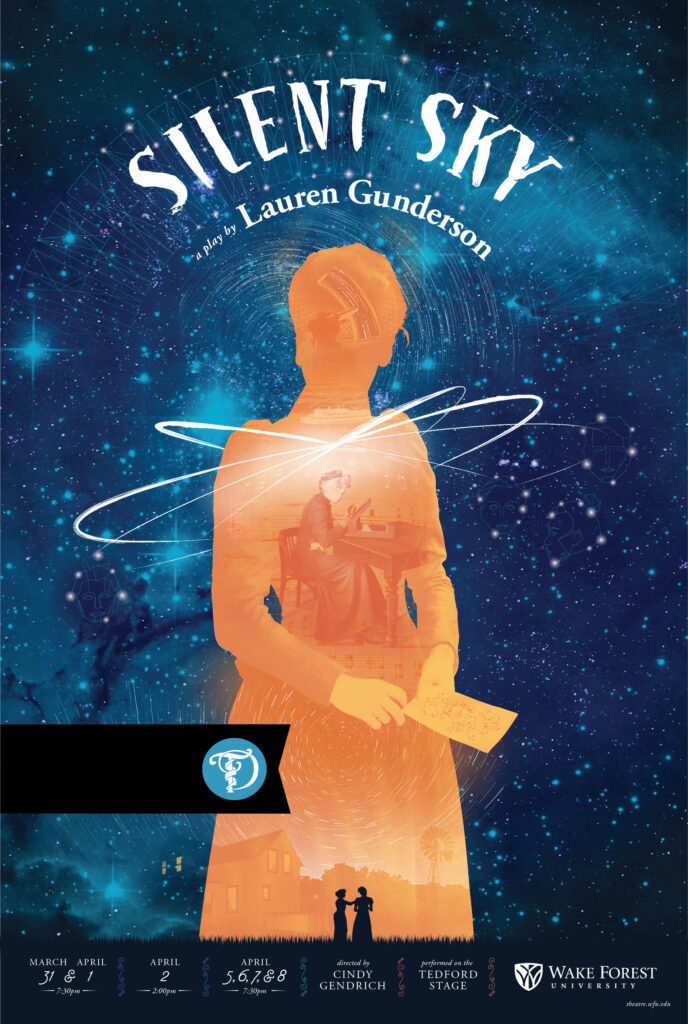 Silent Sky
written by Lauren Gunderson
directed by Cindy Gendrich
March 31, April 1 & 5-8 at 7:30 pm
April 2 at 2:00 pm
Tedford Stage, Scales Fine Arts Center
Silent Sky is Lauren Gunderson's vivid astronomy origin story about Henrietta Leavitt, whose early work at Harvard taught us how to measure the universe. The Atlanta Journal Constitution called it a "luminously beautiful play," and "an intellectual epic told on an intimate scale." A story of family, friends, and choices, of persistence, love, and longing, this delightful night in the theatre also makes the recent photos from the Webb and Hubble telescopes seem even more amazing.
This production is the vehicle for WFU Theatre's international design competition, aWAKEn, and features the dazzling work of Egyptian scenic designer Héba Hicham Elkomy.
Post-performance discussions will be held on March 31 featuring Héba Hicham Elkomy and the design team for the production; April 7 on Women in Science featuring Dr. Susan Wente; and April 8 featuring playwright Lauren Gunderson. 
Tickets: $15 adults, $12 senior citizens, and $7 students. Available starting March 14.
---
Theatre & Dance Department News
Newsletter
Contact Leslie Spencer to be added to the subscriber list for the Theatre & Dance Department newsletter.